In Memory
Jesus "Jesse" Tijerina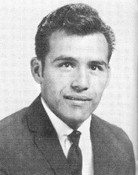 Sunday, April 13th, Jesse entered the Kingdom of Heaven. He was born & raised in Abilene, TX. He graduated from Abilene High School. He worked in heating and air conditioning for many years. He was also a wonderful father, grandfather, great-grandfather, brother, son, uncle, cousin, and friend. He touched so many lives in some way. He will be deeply missed but not forgotten.
He is preceded in death by his parents, three brothers, and one sister.
Survivors include a son & partner, Isreal Tijerina & Lynelle Bowden of Irving, one daughter & partner Jenny Tijerina & Robert Carrion. Brothers; Isbella, Chris, Domingo, David, Esmerejldo Jr. Tijerina. Sisters; Connie Ramos, Ester Hancock, and Vicki Esparza. Grandchildren include Hope Carrion, Robert Carrion Jr, Camille Carrion, Corey Carrion, Adrian Tijerina & Christian Thompson all of Abilene, Destiny & Meghan Tijerina of Goldthwaite, TX, Amad Dheuma & Isaiah Tijerina of McKinney, TX, Nathan Tijerina of Irving, TX, and several great-grandchildren, cousins, nieces, nephews, and a good friend Charles Pacheco, and Amy.