In Memory
Warren Shaw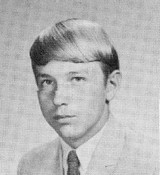 Warren Edward Shaw, 58 years old, resided in Scottsdale, Arizona, formerly of Abilene and Irving, Texas, died May 1, 2010 at the V.A. Hospital in Phoenix, Arizona.
Funeral services will be at Abundant Life Assembly of God Church, 6535 I-20 in Merkel, Texas 79536, on Saturday, May 15th, at 1:00 p.m. Pastor Joe Bushnell will officiate. Interment will follow in Rose Hill Cemetery in Merkel under the direction of The Hamil Family Funeral Home, 6449 Buffalo Gap Road in Abilene.
Warren was born May 7, 1951 at the Saddler Clinic in Merkel, Texas. Warren grew up in Abilene, Texas, where he married Debbie Cheek. Warren lived in Irving for 27 years and in Scottsdale, AZ for eight years. He was a 1969 graduate of Abilene High School. Warren was on the Dean's List at the University of Texas, having graduated from there with a degree in Criminal Justice. Warren was a U.S. Army Veteran, serving in Europe. He worked for the Union Pacific Railroad for 25 years. Warren retired with a Railroad Disability Pension.
He was preceded in death by his sister, Susan Shaw, and father, Warren H. Shaw.
Survivors include his son, Warren Brandon Shaw and grandson, Warren Andrew Shaw, of Arlington, Texas; daughter, Brittany Shaw of Austin, Texas; sister, Shela Wilson and her husband, Richard Wilson, of Scottsdale, Arizona; and his mother, Tillie Mayes and stepfather, Bert Mayes, of Merkel. Warren had a large extended family and many, many friends.
Warren was a Baptist and an avid fisherman and hunter. If you knew him, yowould never forget him.
"Rest in Peace"
Online condolences may be posted at www.HamilFamilyFuneralHome.com.