In Memory
Patti McGlasson (Weatherly)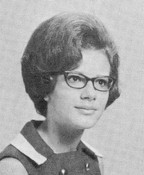 Patricia McGlasson Weatherly
Abilene

Patricia McGlasson Weatherly of Abilene, Texas passed away on July 25th, 2010.
Patti was born in Abilene to Gloria and Eugene McGlasson. Patti graduated from Abilene High in 1969 and then North West Texas Hospital School of Nursing and practiced as an RN. She was a beloved grandmother to Tristan, Sage and Zane. She is survived by her mother Gloria McGlasson, her daughter Trisha Weatherly Morris and son Rusty Weatherly and their families as well as and Albert and Shirley Haile and their family.
Services will be held 11am Wednesday, July 28th at the Faith Baptist Church at 2300 South 20th.
Patti will be loved and missed by all who knew her.


Published in Abilene Reporter-News on July 27, 2010