In Memory
Happy Fourton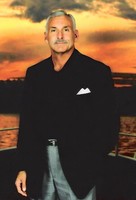 Abilene, Texas - John (Happy) Fourton, our beloved husband, father, son, brother and friend began his eternal life on July 13, 2007, after suffering a heart attack while at sea.

He was born in Kerrville, Texas on October 2, 1949, to Edward and Patricia Fourton. John and his family moved to Abilene shortly thereafter. He attended Hardin-Simmons University and the University of Texas in Arlington. A successful rancher, stockbroker, and realtor, John loved spending time with his family and friends and was always happiest when they came together for their annual Dove Hunt each September.

John traveled extensively with his wife Diane as their lives carried them from Palm Beach, FL to Albany, GA, Colorado Springs, CO, and finally back home to Abilene in 2003. John volunteered his time working with prison ministries and was a mentor and friend to those who needed it the most. His generosity and willingness to lend a helping hand touched many people in each of these cities and in their travels along the way.

While he had many solemn accomplishments, John was always known for his sense of humor. He will be greatly missed, but his legacy will live on through the memories and stories of those who knew him well.

John was preceded in death by his father, Edward L. Fourton, his niece, Leah Sullivan and his nephew, Travis Morford.

In addition to his wife, Diane, John is survived by his mother, Pat Fourton of Abilene, his children, Justin Fourton and wife, Diane of Dallas, his daughter, Tiffany Cooper and grandson, Hunter of Dallas, brother Ed Fourton and wife Miechell of Abilene and sisters, Danni Morford and husband, Pete of Austin and Michielle Sullivan and husband Russell of Abilene, as well as many adoring nephews and nieces.

A memorial service will be at the Abilene Bible Church, 3125 Oldham Lane at 1:00 p.m. The family will host a visitation after the service at the family home. In lieu of flowers, donations may be made to the Abilene Bible Church for the John Fourton Scholarship Fund.