Taylor Elementary
Taylor Elementary Group Photos
Names of 1969 graduates are in bold.
If you can fill in any missing names, please email me.
If you have photos to share, you can upload them in the Photo Gallery or ask about how to upload them.
First Grade
Thank you Gary Hiler for scanning and sending it to me!

Top Row - Mrs. McRee, Danny Allen, Susan Watson, Graceanna Rowland, Betty Robbins,
David Sorrells, Bobby Snow, Mark Smith
Second Row - Sherry Owens, Laura Jarnagin, Kay Young, Brenda Kay Betcher,
Benny Waldrum, Larry Scarborough
Third Row - Linda Holeman, Shari Hobbs, Debra Griffith, Paula Bernard, Wayne Tutt
Fourth Row - Sue Gililland, Linda Gathings, Richard Templeton, Robby Holmquest
Fifth Row - Roma Gamble, Mike Cummings, Gary Hiler, David Swindle, Jick Hill
Last Row - Karol Ruth England, Mary Doty, Polly Davis, Gary Rogers, Kathy Burch,
Ronnie George, Perry Davis, Gary Crain, Joel Cox
Combined Second and Third Grade Class

Seated - 1. ? 2. ? 3. Bruce Huff 4. Duane Griffith 5. Mike Shero 6. Jick Hill
Middle Row - 1. Sherry Owens 2. Laura Jarnagin, 3. Betty Robbins 4. ? 5. Mary 6. Camille Amons 7. ? 8. Roma Gamble
Top Row - Don Lawson, Sue Gililland, Barry Currey, Danny Allen, Jack Reese, Perry Davis, Susan Watson, Gay Ann Gabbart
Mrs. Scott, our teacher Mr. Herring, our principal and our student teacher
Third Grade

Seated - Betty Robbins, Susan Watson, Linda Gathings, Kay Flanagan, Shari Hobbs, Roma Gamble, Mary Ethel Underwood, Paula Bernard
Second Row - James Pond, Steve Moss, Jick Hill, Vance Gabbart, Benny Waldrum, Sherry Owens, Sue Gililland, Laura Jarnagin, Debbie ____, Barry Currey, Gary Hiler, Don Lawson, Gary Rogers, Danny Allen, Jack Reese
Third Row - Mr. Herring, Mark Smith, _____, Bobby Scott, David Sorrells, Perry Davis, Jerry Flanagan, _____, Wayne Tutt, Mrs. Skipper
Fourth Grade

Seated - Sue Gililland, Suzanne ___, Becky Palmer, Debbie ???, Vicki Jordan, Roma Jo Decker, ____, Hilary Pitt
Second Row - David Sorrells, _____, Mark Smith, Bobby Snow, Betty Robbins, Janice Johnson, Dianne ____, Steve Patterson, Benny Waldrum, Eddie Allen
Third Row - Student Teacher, Jack Reese, Randall Moore, Perry Davis, Barry Currey, Jeff Boggs, Stephen Townsend, Ted Gregg, Jick Hill, David Swindle, Mrs. Perkins
6-AA Football Champs in 1962
Thank you Randall Moore!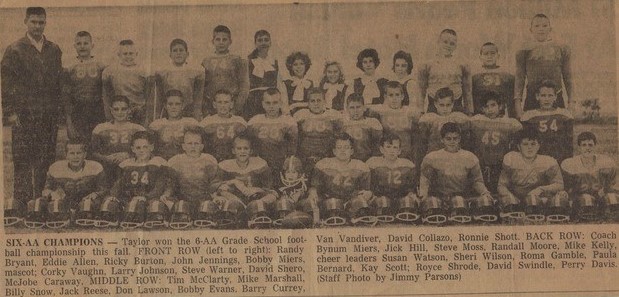 Fifth Grade

Front Row - Eddie Allen, Ricky Burton, Vance Gabbart, Debbie ???, Roma Gamble, Betty Robbins, Virginia Mosier
Second Row - Gary Rogers, Daniel Collazo, Mike Marshall, David Swindle, Jick Hill, Aleta Brown
Third Row - Richard Templeton, Jack Reese, Don Lawson, Barry Currey, Sue Gililland, Becky Palmer, Susan Watson, Jeff Holmes
Top Row - Randall Moore, Steve Flanagan, Jeff Boggs, Stephen Townsend, David Perry, Mary Doty, Perry Davis, Laura Jarnagin
Coach Bynum Miers, our teacher
Sixth Grade

Front Row - Jackie Forster, Betty Robbins, Shari Hobbs, Hilary Pitt, Bonnie Farris, Kay Scott, Bobby Evans, Corky Vaughn
Second Row - Janice Johnson, Johnny Jennings, Billy Dan Snow, Danny Allen, Vance Gabbart, Randall Moore, Daniel Collazo, Rickey Norris, Paula Bernard
Third Row - Aleta Brown, Ted Gregg, Roy Shrode, Perry Davis, Laura Jarnagin, Jick Hill, Vicki Jordan, David Swindle