In Memory
Rickie Vinson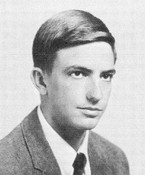 RICHARD LEE (RICK) VINSON
Richard Lee (Rick) Vinson went to be with his special children on Sept. 1, 2001 in Abilene, Texas. Rick was born Aug. 8, 1951, in Abilene to W.J. Vinson, Jr., and Virginia Ruth Holt Vinson. Rick graduated from Abilene High School and attended Tarleton State University and El Centro College.
Rick discovered his life's work while an anesthetist tech at Hendrick Medical Center. In 1974, he began a course of study which led to his becoming a respiratory therapist at Children's Medical Center in Dallas. Rick ultimately was named Pediatric Intensive Care Unit Coordinator. Rick then passed both the Certified Pulmonary Function Technician and Registered Pulmonary Function Technician in less than one year. Rick was the first respiratory therapist to receive the prestigious Jaws Award.
Under Rick's leadership, CMC's Respiratory Therapy ICU staff grew from 15 to more than 50; a new Pediatric ICU was designed and built; CMC implemented one of the world's first pediatric High Frequency Oscillatory Ventilator programs; and critical care patient ventilators were upgraded to computer assisted service ventilators.
Thousands of children lived to go home as the direct result of Rick's loving, personal care, indirectly as the result of his leadership, and through the programs he helped design and implement. The foundation he built continues to make life better for the children he so loved.
Rick left Children's in 1995 to take a position at Walls Regional Hospital in Cleburn, Texas, as Manager of Respiratory Care.
Rick is survived by his daughter and son-in-law, Kim and Brian Lilly of Irving; his parents; brother and sister-in-law, Ronnie and Laura Vinson of Hamby; sister, Barbara Fahrlender; two nephews, Sam Vinson and Matt Fahrlender; his grandmother, Gladys Holt of Abilene; numerous aunts and uncles; numerous cousins, friends; and his special little buddy, Jake Hutchins of Van, Texas.
Funeral services are 1 p.m. Monday at the Elliott-Hamil Funeral Home Chapel of Faith, 5701 Hwy 277 South, with Knox Waggoner officiating. Burial will be in Bethel Cemetery.
The family requests that memorials be made to Ronald McDonald House at CMC or to the National Cystic Fibrosis Assn.