In Memory
DeAnna Scoggin (Vinson)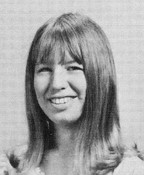 Rare Disease Kills Abilenian
Abilene Reporter News, Friday, January 21, 1977
Mrs. Douglas (DeAnna) Vinson, victim of lupus erythemalosis, died shortly after 7 a.m. Thursday in St. Anthony's Hospital in Oklahoma City where she had been a patient since Jan. 16. Services will be at 2 p.m. Saturday at the Pioneer Drive Baptist Church.
The Rev. Jack Hiddlehoover, pastor, will officiate. Burial will be in Elmwood Memorial Park, directed by Elliott-Hamil Funeral Home.
Mrs. Vinson had been ill with the rare disease for three years and became critically ill early this month. She was admitted to Hendrick Memorial Hospital and was transferred to McBride Bone and Joint Hospital in Oklahoma City, then to St. Anthony's. She had been listed in critical condition in the intensive care unit there since she was admitted.
Born October 27, 1951 in Abilene, she was graduated from Abilene High in the top 20 of her class in 1969. She entered medical records school at Hendrick Memorial Hospital in Abilene and was graduated from there. She was employed by the Bone and Joint Clinic as a medical records technician until July 1976.
The former DeAnna Scoggin, Mrs. Vinson was the daughter of Betty Lambert and Charles Scoggin, both of Abilene. She married Douglas Vinson Aug. 21, 1971 in Abilene. She was a member of Pioneer Baptist Church.
Survivors include her husband; a son, David; her father, Charles Scoggin; her mother, Mrs. Betty Lambert; a brother, Gary Scoggin of Huntsville; three sisters, Bonnie Ammons, Brenda and Shirley Scoggin, all of Abilene.
Pallbearers will be Johnny Mallory, Danny Irvin, Johnny Spradling, Jerry Deal, Jimmy Rayfield, and Joe Nelson.
The family requests any remembrances be made in form of contribution to the Oklahoma Lupus Association.