In Memory
Elaine Mayhall (Sanders)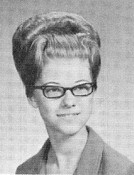 Elaine Cordelia was born October 21, 1950, the second daughter born to Lonnie L. Mayhall and Shirley L. (Kinsfather) Mayhall. She was born in Ranger, Texas and then moved to Abilene as a small child. She married Norman E. Sanders, Jr. November 22, 1969; they had one son, Norman E. Sanders III.
Elaine was a gentle spirit that had a heart for God. She was a very talented musician and vocalist for the Lord from the time she was a tiny girl up until the time of her early passing, December 18, 1994. She could play the piano, organ, and accordion. She sang, played, and served in the music program her entire life in the Abilene church (First Pentecostal Church) of her grandfather, the Rev. J. J. Kinsfather.
She had 3 siblings: Sharon L (Mayhall) Watts, Janel J (Mayhall) Young, and Lonnie L. Mayhall, Jr.