In Memory
Judy Hamilton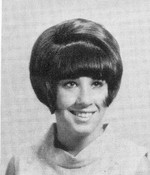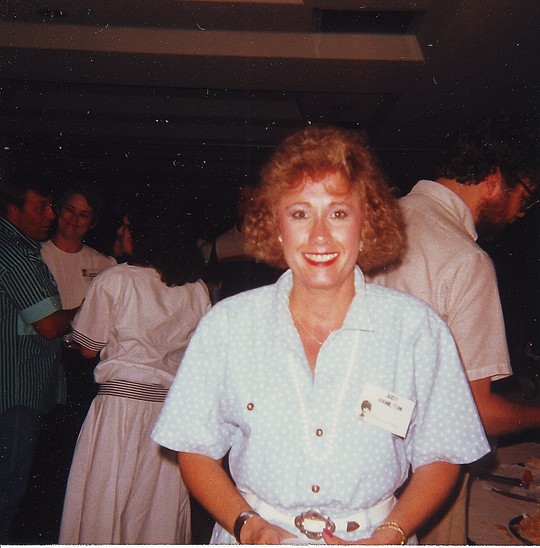 This picture of Judy at our 20 year reunion was sent in by Charles Foster.
======================================================
Judy Carol Hamilton died Saturday, August 24, 2002, in an Abilene hospital.
Graveside Services will be held Tuesday, August 27, 2002 at 10:30 a.m. in Elmwood Memorial Park directed by Elliott-Hamil Funeral Home, 542 Hickory. A Memorial Service will follow at 11:30 a.m. at St. Paul United Methodist Church with Reverend Steve Chappell officiating.
Judy was born May 09, 1951 to Edward H. and Margaret Encke Hamilton, in Abilene, Texas. She graduated from Abilene High School in 1969 and was a graduate of Sam Houston State University in 1973.
She worked for the State of Texas for 28 years, 25 years for the State Commission for the Blind as a children's social worker in Fort Worth, Texas. She assisted children who had visual problems. She had a gift for working with the children and their parents.
Assisting with the many projects and camps for the children brought Judy much joy and personal satisfaction. Because of her dedication and love for the children and their parents and her co- workers with the Commission for the Blind, she regarded them all as her "second" family.
Judy was a Methodist, having joined St. Paul United Methodist Church at an early age. Survivors include her parents; Ed and Margaret Hamilton, two brothers; Edward H. Hamilton the III of Abilene; Irvin L. Hamilton and wife, Shirley, of Austin; two nephews, Robert Hamilton and Ross Hamilton, both of Austin, Texas and one niece Page Hamilton of Greenville, South Carolina.
Memorials may be made to Hendrick Hospice Care, 1682 Hickory Street, Abilene, Texas 79601 or the memorial of ones choice.