In Memory
Jackie Hastings (Wright)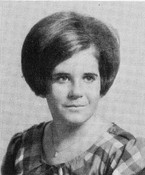 Mrs. Jackie Wright, 18, died at 12:30 p.m. Friday, June 4, 1970 at Hendrick Memorial Hospital. Funeral arrangements are pending at Elliott's Funeral Home.
Mrs. Wright was born Aug. 4, 1951 at Lamesa and moved to Abilene with her parents from lamesa in 1952. She graduated from Abilene High School in 1969 and married John Marshall Wright of Abilene April 25, 1969.
She is survived by her husband of the home; one son, Sean Marshall Wright, one-week old Friday; her parents, Mr. and Mrs. Stephen Hastings; one sister, Mrs. John Rosenfeld; maternal grandparents, Mr. and Mrs. M. G. Shults; and one nephew, all of Abilene.