In Memory
David Flores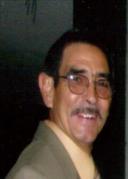 David Suniga Flores, 63, passed away at home peacefully and faithful to God, on Friday, April 25, 2014. A memorial service was held 2:00 p.m. Monday, April 28, 2014 at the Kingdom Hall of Jehovah's Witnesses, 2018 Highland Ave..
Mr. Flores was born March 13, 1951, in Abilene, Texas to Jose Tinajera and Irene Suniga Flores. He spent all his life in Abilene making many friends along the way and being a true friend to all.
Left to cherish his memory are his wife, Janie Sepeda Flores; three sons, Joe David Flores, Xavier Espiridion (Speedy) Flores and wife Cathy M., and Francisco Andres Omar Flores; a daughter, Brandi Rodriguez Flores; two sisters, Lupe Ann Connally and Debbie Rodriguez and husband George; two brothers, Robert (Bob) Flores and Nicholas Flores; 20 grandchildren; 9 great grandchildren and many, many nieces and nephews.
Mr. Flores was preceded in death by his parents.
The family would like to extend their deepest gratitude and thanks for all the friends and family for their love and support.