In Memory
Keith Catlett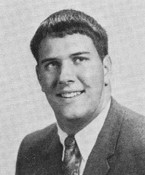 John Keith Catlett, 25, former Abilene High School basketball player, lost his six-month battle with leukemia at 2:45 a.m. Friday in West Texas Medical Center.
Young Catlett had required enormous amounts of blood to fight the agressive and resistant form of leukemia from which he suffered. He underwent treatment at Scott and White Hospital in Temple where he was in the intensive unit for some time and credit for blood donated here was sent to the hospital there.
Services for Catlett will be at 10 a.m. Monday in Pioneer Drive Baptist Church with the Rev. jack Hidlehoover, pastor, officiating. Burial will be in Elmwood Memorial park, directed by Elliott-Hamil Funeral Home.
Born July 4, 1951 in Alexandria, La., he moved with his family to Abilene from Glenmara, La. in 1956. He was a 1969 graduate of Abilene High School and received a BS degree in photography at Sam Houston State University in 1974. At the time of his death, he was employed as a pumper by LeClair Operating Co., Inc. and his mother said he had hoped to become a field superintendent for the company. His father is president of LeClair.
Survivors include his parents, Mr. and Mrs. R. John Catlett; a brother, William Roland; and his maternal grandmother, Mrs. Arthur Wright of Doddsville, Miss. The family requested memorials to West Texas Rehabilitation Center.