50th Reunion Events
AHS '69 50TH Reunion

April 26-27, 2019

Registration deadline was April 10
All events casual / business casual
Find us on Facebook for reunion information- Abilene Eagles 69
We've booked hotels at group rates. Information posted on our website and on Facebook. Reserve early!
Friday, April 26
6PM-??? - Taylor County Expo Center, Big Country Hall, 1700 Hwy 36
Meal Catered by 5C BBQ, barbeque and all the trimmings
60's music
BYOB (no glass containers)
Cooper '69 grads will join us tonight
Saturday, April 27
9:00-10:00 AM – Abilene Kiwanis Club Pancake Breakfast
Abilene Convention Center, 1100 North 6th
Reserved Table for AHS '69
11:00-1:30 – Lunch in the AHS Cafeteria
Deluxe Taco Bar by Lone Star Cooking and Catering, LLC
tacos, tortillas (gluten free options), beans, chips, dips, salsa,
corn dish, drinks, Mexican Wedding Cake
6:00PM-??? – Abilene Country Club, 4039 South Treadaway
Dinner, Cash Bar, Group Photo
Guest Speaker: Jay Moore, AHS teacher and author of History in Plain Sight
Memorial Service: Please submit memories to Mike Marshall on our website
Auction: Proceeds to establish scholarship for AHS senior
Several nice items already donated. If you have items to donate contact Danny Nelson, detcnelson@yahoo.com or text D.C. Roberts, 325 762 6000
Photos taken at the County Club - 8x10 group photo & candid shots
$15 group photo/CD package includes postage paid directly to professional photographer, Stan West.
Registration / payment deadline is April 10. Go to eagles69.com to register. If you or someone you know may need some help with event costs, please contact Jan (Nunnally) Lineweaver - lineweaverj@suddenlink.net.
Reunion Committee: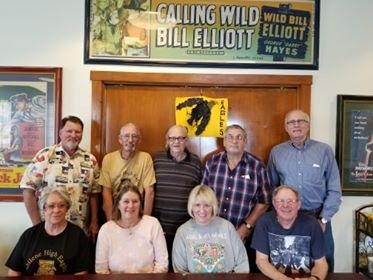 Pictured left to right: Jimmy Friend, D C Roberts, Herb Patterson, Danny Nelson, Leroy Perkins leroyp@perkins-ins.com,
Jerri Roberts, Jan (Nunnally) Lineweaver, Carol (Beaty) Corley ccorley69@gmail.com, Rich Kinney
Not pictured: Stan Chapman chapsail@hotmail.com, Jamie (Lacy) Breed, Angela (Stewart) Lewis, Mike Marshall, Betty (Robbins) Fowler, Adolfo Ortiz